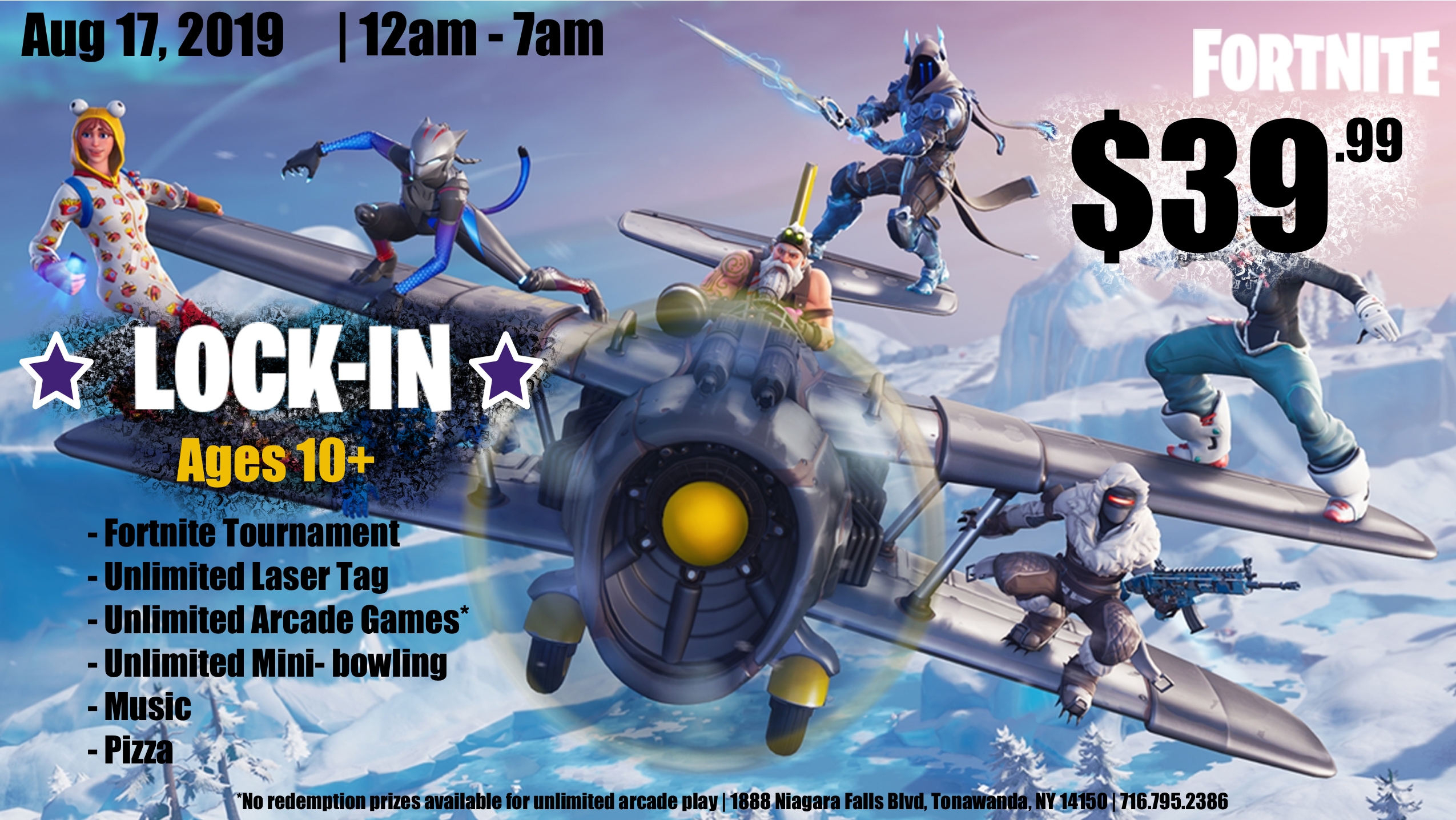 Don't miss the lock-in of the century for kids between the ages of 10 & 17. Parents are also welcome but cannot play.
Event Date: August 17, 2019
Drop off: 11pm-11:59pm
Start: 12am
Pick up/end: 7am

Fortnite Tournament - We will have several gaming stations setup for participants to play in a fortnite tournament going on all morning(Xbox Consoles used).
Unlimited Laser Tag* - Play as much tactical laser tag as you can handle.
Unlimited Arcade Games* - From zombie to basketball games, we have it all. Play all morning.
Unlimited Mini-bowling - Play the coolest bowling game in town. No special shoes required!
Music
2 Slices Pizza - Enjoy our fresh baked pizza. Includes water. Soda other food items and energy drinks are available for purchase.*
Security - This will be a secure and well staffed event.
Prizes
1st Prize - $250 in Visa/Mastercard or Best Buy gift cards
2nd Prize - $150 in Visa/Mastercard or Best Buy gift cards
3rd Prize - $75 in Visa/Mastercard or Best Buy gift cards
4rd Prize - $25 in Visa/Mastercard or Best Buy gift cards
5rd Prize - $25 in Visa/Mastercard or Best Buy gift cards

*Redemption prizes NOT available for unlimited arcade games. Amount of Laser tag games are based on attendance. No outside food allowed on premise. No guarantee on which console you will be using for tournament.

Register Now